FIRST COMPLETE BOLLYWOOD HERO
Urmila crazy about Hrithik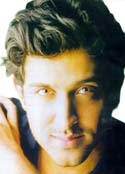 The whole wide world is crazy about none other than Hrithik Roshan. And that's includes apni Urmila too !
According to her, Hrithik is so good and she had seen the preview of Kaho Naa Pyaar Hai before it's release and was pretty confident of him taking the numero uno position and generating the wild craze. She is so crazy after him that she has asked her mentor Ram Gopal Verma to etch out a role for her and include Hrithik in the same
We have heard that she is so desperate to work opposite the light-eyed cutie that Price does not Matter for the Rangeela babe at all. After all, it's Dil Da Maamla for her and a loss in one department can be balanced by gain in another, right ?