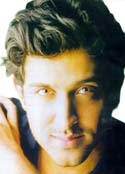 Dame Luck has smiled on Vidhu Vinod Chopra. He had signed Mission Kashmir with Sanjay Dutt and Hrithik Roshan. Sanju baba signed the film cheap during the lean phase of his films before the hit Vaastav, Hrithik at that time was just another newcomer and signed the film for peanuts.

At the time of signing, Mission Kashmir appeared to be just another ordinary film.

In the run-up to the Hrithik mania following the success of Kaho Naa Pyaar Hai and Sanjay Dutt appreciation and re-rating post Filmfare award and Vastaav's success, the film has been re-rated.

Distributors are offering truckloads of money for a pie of the slice of Mission Kashmir. The music rights have been sold for record sums. Vidu Vinod Chopra is laughing all the way to the bank.

Let us hope that Vidhu's mission turns out a success on release.