FIRST COMPLETE BOLLYWOOD HERO
Lisa walks out of Na Tum Jaano Na Hum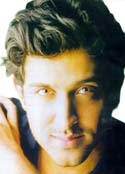 Hrithik was dealt a cruel hand. Lisa Ray threw a tantrum on the second day of shooting of Na Tum Jano Na Hum. The film was debut direction of Arjun Sablok starring Hrithik Roshan and Esha Deol.

The mahurat went very well and Lisa appeared happy. Therefore it came as shock to the unit when Lisa walked out leaving the producer and director stunned. Sources close to Lisa say that she was unhappy with treatment of her role vis-à-vis Esha and Hrithik. She felt she would be just a dummy in the film. Other sources whisper that Vikram Bhatt instigated her. Vikran has signed Lisa in Kasoor, opposite Aftab Shivdasani and Apurva Agnihotri. Lisa was led to believe that she would be overshadowed in the film and did not want to play a second fiddle to anyone. Arjun said that if that if Lisa had made things clear it would have saved her embarrassment and everybody else so much harassment.

Is it Lisa's Kasoor that Na Tum Na Hum came to know of her feelings ?