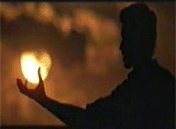 Hrithik Roshan will now lend his name to market consumer products like perfumes, video games, toys, pens in the domestic and the foreign market. All the merchandise will carry Hrithik Roshan's brand name.
Popular Entertainment Network known as PEN who is marketing the merchandise has agreed to pay Rs. 5 crores as royalty to Hrithik in the next five months. The merchandise rights have been bought at 15% profit sharing with 85% to be retained by PEN. According to inside sources, this is the first time that a Bollywood film star will be marketed in such a large scale. Hrithik pens have already flooded the market and Hrithik perfumes are expected to hit the markets sometime in Diwali this year.
The launch of Hrithik perfume will be followed by Hrithik video games, Hrithik autograph books, Hrithik toys, Hrithik diaries and several other items as confirmed by Mr. Jayantilal, Managing Director of PEN.

So the perfume market is now all set to witness the fight between SK and HR perfumes. Who wins the race, only time will tell