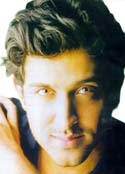 MUMBAI: Saturday night and Mumbai's skies were not dotted by a single star. Instead, our very own cricket and Bollywood stars descended thousandfold on the Wankhede stadium for a Sahara TV-sponsored benefit match in aid of drought-affected victims. The tie was organised in association with Mukti, A Smita Thackeray Foundation and the proceeds will find their way to the Prime Minister's relief fund.

Among those present was Shiv Sena chief Bal Thackeray.

It's not so packed even for a Ranji Trophy match featuring Mumbai,'' remarked a fellow scribe as the stands began getting filled within minutes. And gradually an echo transcended throughout the stadium -- ``We want Hrithik, we want Hrithik''. For a change, girls were in a majority, perhaps never before in such numbers for a cricket match. And the motivation for the female presence -- India's new demi-god Hrithik Roshan was leading one of the teams.

Their prayers did not go unanswered, for Bollywood's new favourite walked into the field with rival skipper Sachin Tendulkar for the toss. Sachin, perhaps for the first time in many years, was overshadowed, as Hrithik stole the thunder from the little champ. The ecstatic crowd rose to its feet at the first glance of the new-age superstars. In seconds, the field was engulfed by a sea of photographers, forcing both captains to rush back to the pavilion.
For once Sachin was not Mumbai's favourite boy. Even as he entered the field with the likes of Saba Karim, Aditya Panscholi, Arshad Warsi, Mahesh `Vaastav' Manjrekar, Vinod Kambli, Ajit Agarkar and Anupam Kher, it was Roshan Jr. that the crowd wanted. If the crowd had harboured any hopes of watching Hrithik in action, they were in for disappointment as it was cricketers Ajay Jadeja and Jatin Paranjpe who open the batting for their side. Jaddu did try to make up for his ``skipper's'' absence by playing some swashbuckling shots in his cameo 30-run knock.
Agarkar and Sachin opened the bowling, but both batsmen looked fairly comfortable facing them. Thereafter, Arshad Warsi bore the brunt of the Jadeja-Paranje duo's onslaught, getting clobbered for successive fours in one over. Of course, he did manage to grab Paranjpe's wicket after peppering him with a couple of bouncers that would have had Wasim Akram and his tribe smiling.

All this while, the crowds were treated to some rib-tickling commentary, courtesy Johnny Lever and Jaspal Bhatti. As Paranjpe made for the dressing room, there was an air of expectancy. Would ``He'' grace the field, this time? It wasn't to be. Akshay Kumar came instead and enthralled the crowds with some heady shots. The expectant crowd took to its feet again, this time for `Virar ka chokra' Govinda who made a late entry for Sachin XI.

And as he was about to bowl, Johnny Lever, aptly began singing, ``Govinda ala re..'' Anupam Kher, doing a perfect impersonation Mohinder Amarnath's run up, looked the least dangerous of the bowlers. But he emerged Sachin XI's trump card, foxing Akshay Kumar, Sanjay Dutt, Shekhar Suman and Ashutosh Rana.

But where was Hrithik? Patience was running out. Giving a perfect twist to the tale, Kapil Dev walked in, and the whole stadium forgot Hrithik, giving Paaji a standing ovation. The former skipper, who is under a cloud over match-fixing charges, hammered a blistering 50 in quick time, displaying shades of old magic. Then arrived the highpoint of the evening -- what edgy teens and middle-aged mums, commuting from all corners of Mumbai, had waited to witness and will remember the rest of their lives. Hrithik emerged from the shadows of the dressing room after the first session of play, giving the crowd a dekko of their latest hero, taking a lap around the stadium. Hrithik took to the stage and thanked the crowds for their undying love and adulation.

Hrithikmania had engulfed Wankhede stadium and how! Crooners Remo Fernandes, Sapna Mukherjee and Suneeta Rao, actress Tabu, all performed, but none could match Hrithik's show-stealing ability.

It was a night to remember, a starry night that Bollywood's brightest star and his fans would cherish for a long, long while.