FIRST COMPLETE BOLLYWOOD HERO
Roshans: A family blessed!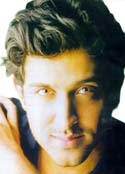 Yuppo! Kaho Na Pyaar Hai is still going great guns, people. The world's in the grip of Hrithik fever and papa Rakesh is having the last laugh all the way to the bank. Kaho Naa has established him as a super top notch director and we're not even starting to tell you of what it's done to the fate of Hrithik in Bollywood.
We think you know enough and more about that already. But there's one aspect of the flick that we believe has decisively helped it see the success it has. You guessed right! The clinching music score by uncle Rajesh Roshan, which has been on top of the charts for several months now. Well, well, some family. The three Roshans are --- ace director Rakesh, ace musician Rajesh, and ace hero Hrithik. So tell us trio, when does the world expect another blockbuster? We're waiting!