FIRST COMPLETE BOLLYWOOD HERO
The Hrithik threat continues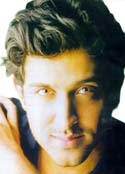 So Hrithik is gonna give fellow actors no respite, is it? Perceptibly, he's threatened biggies like Shah Rukh and Salman and not to mention star-debutant, Abhishek Bachchan.

But the Hrithik insecurity continues to eat at not just contemporaries but debuting model actors as well. Take the case of model Arjun Ramphal, who was to star in Na Tum Jaano Na Hum with Hrithik and Esha Deol. Apparently we last heard that Arjun had walked out of the film.

And while there might be reasons galore for this, the most plausible one seems the insecurity factor, according to what insiders in the industry claim.

So, while Hrithik's unintended but lethal magnetism has one half of the world eating out of his hand, the other half lay at his feet. Tch...tch...

Did we just hear the envy noose tighten further around his rivals?