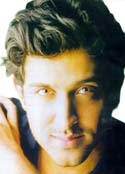 To be or not to be? There's no uncertainty about it. Hrithik Roshan will play Hamlet in a Hollywood film. Only, this Hamlet is a Rajput prince who avenges his father's murder in a ``chilling thriller which will have a global appeal.''
The film, titled Aditya, will be produced by Los Angeles based James Killough and directed by Tarsem Singh, who made it to Hollywood's A-list with the sellout, The Cell.
It all started in 1991. The idea of an Indian Hamlet struck Killough while he was doing a photo shoot in New York with Jodhpur's Raghavendra Rathore. ``When the designer prince was on the set, it struck me how much he looked like an Indian Hamlet!'' he says, speaking from his office in Hollywood.
Killough scripted the film almost seven years ago, but had given up hopes of making it because ``there wasn't an actor around.'' Then, sometime last year, he saw Hrithik on the cover of a magazine and found what he was looking for: ``Two months later, I signed him.''
The Bollywood superstar seems set to cross over to international stardom. Killough, who places Hrithik ``somewhere between Tom Cruise and Antonio Banderas,'' says the 27-year-old has the star quality that makes a room a little brighter when he walks in. But ``regardless of his phenomenal success he's a new name here. So we will have to sell him through the two known names -- Hamlet and Shakespeare.''

However, Killough's script has done away with all of the Bard's words. ``Shakespeare's English is a foreign language even in England,'' points out the writer who also penned Muzaffar Ali's Zooni and Pamela Rooks' Miss Beatty's Children. Besides, as he points out: ``Shakespeare even without his dialogue is a master storyteller.''
The multi-million-dollar international film, to be shot with major Bollywood actors in every single role, would not have come through but for another Indian. ``In Hollywood, if you don't want to stay in the festival circuit, you have to have a Mel Gibson or Tom Cruise in the lead, or find a director who can bring in the money,'' explains Killough.
Tarsem Singh fitted the bill, when his debut feature starring Jennifer Lopez and Vince Vaughn grossed over $ 100 million last September. Killough is confident that being Indian-born, the director ``will treat the subject with a passion and sensitivity that will add a new dimension to his singular vision and his vivid colour palette,'' .
The film will be shot on locations in Jodhpur Fort, with some scenes in England, Shakespeare's homeland.