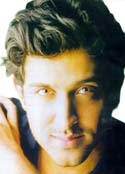 In the latest in the series of Corporate India riding Bollywood stars to market their brands, Hindustan Lever (HLL) has signed up Hrithik to promote their brand Close-up. Close-up was the first gel toothpaste in India from HLL.
The highlight of the strategy is using Hrithik Roshan for a nationwide 'Sky Party' contest with 'Guarantee Hamari, Kismet Tumhari' as the advertising thought for the contest. The contest starts from February 14 across the country will culminate on April 26, at a star filled dinner and a flight for 30 lucky winners with Hrithik on board.
The punch-line goes, "Guarantee Hamari, Kismet Tumhari' revolves around the ability to get you Close to Hrithik... the rest is really up to you! This contest therefore guarantees that Close-Up will bring Hrithik to you... whether you get to Hrithik is really your kismet..."
In order to encourage participation, Close-Up has used a multimedia approach such as print, radio, television and the Internet to create visibility and excitement.
The brand positioning of Close-Up was always youthful. The HLL oral care head Pradeep Banerjee said that Hrithik was a natural choice considering that the appeal of Hrithik was the strongest in the youth segment that was being targeted. The new Close-Up campaign seeks to strengthen and connect with today's youth.
Hey man, where is my Close-up?