Personal Information
Hrithik's Fact File
Hrithik's First's !
What Hrithik Say's
Know More About Hrithik
Hrithik Fan Club
Forthcoming movies of Hrithik
Hrithik's comparison with other actors
Exclusive Screensaver of Hrithik
Interview In Filmfare Magzine
Interview In Times Of India
the Coke ad screen-saver of Hrithik
Hrithik Black & White Wallpapers
Hrithik Signed Wallpaper
Wallpapers 1

Wallpapers 2

Wallpapers 3

Wallpaper Of Hrithik
Closeup wallpapers of Hrithik
Wallpapers 4
Pic Of Hrithik with Models
Pics Of Hrithik1

Pics Of Hrithik 2
Family Pics Of Hrithik
Pic Of Hrithik In Coke Ad
Pics of Hrithik and Ameesha
Pics Of Hrithik In New Coke Ad
Pic Of Hrithik in SKumars ad
Pics Of Hrithik 3
Hrithik's Marriage Pics & News
Hrithik in Filmfare
Awards

Hrithik Performing Live in Delhi
Hrithik With Lata Mangeshkar
Hrithik Roshan: The New One-man Industry Beverages giant, Coca Cola India, found that the recall of its television commercial among TV viewers across the country scaled from 20 per cent to a high 31 per cent with the launch of its Hrithik Roshan campaign........more
Karan's confidence in Hrithik.
Here's more on KABHI KHUSHI KABHI GHAM and Hrithik Roshan! Not many are aware that Karan Johar had decided to cast Hrithik for his new project even before KAHO NAA... PYAAR HAI had released.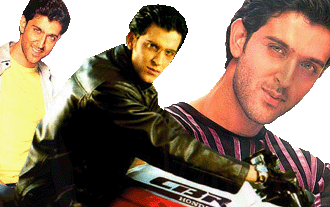 Nayak with Hrithik is definitely on
It is a known fact that producers Bablu Pachisia and Sunil Saini were amongst the first to sign Hrithik Roshan for NAYAK, during the making of KAHO NAA... PYAAR HAI.

Ramesh Sippy signs Hrithik & Ash
Rakesh Roshan wanted to cast Hrithik Roshan and Aishwarya Rai for an ad film first, and his home-production later

Yaadein postponed by one week
Everyone is eagerly awaiting the music of Subhash Ghai's YAADEIN. The film is also keenly anticipated since it teams Ghai and Hrithik Roshan together for the first time
Pics of Hrithik in Kaho Naa Pyaar Ha
i
Wallpapers of Kaho Naa Pyaar Hai
Lyrics of 'KNPH'
Download MP3 songs of "KNPH"
Location Pics Of Fiza
Fiza songs in Mp3
Movie Preview of Fiza
Screensaver of Movie Fiza
Pics Of Hrithik in Fiza
Soundtracks & Trailors
Lyrics Of "Aaja Mahiya"
Previe
w of Mission Kashmir
Soundtracks & Trailors
Movie Pics Of Mission Kashmir
Wallpapers of Mission Kashmir